Trash games
o importante poder obscuro da comunicação e dos videojogos
Palavras-chave:
videojogos, comunicação, mediatismo, polémica, espetáculo
Resumo
Os videojogos comportam um potencial comunicativo inegável independentemente do seu género. A sua natureza interativa proporciona uma abertura considerável a múltiplas interpretações consoante o conteúdo que vai sendo construído durante as experiências jogáveis. Contudo, existe também o caso de videojogos que criam controvérsia pelo conteúdo que apresentam. Neste artigo, iremo-nos debruçar sobre videojogos desenvolvidos maioritamente por criativos ou empresas independentes que acabam por ser alvo de um enorme mediatismo por explorarem temas e tópicos sensíveis, como a violência física, sexual, entre outros. Procuraremos demonstrar que, apesar do impacto negativo, do mediatismo populista e das discussões fomentadas pelos media contemporâneos, estes por nós denominados trash games podem ser muito relevantes para pensar o futuro das indústrias criativas, da comunicação, dos criativos e da sua audiência.
Downloads
Os dados de download ainda não estão disponíveis.
Referências
Atkins, B. (2003). More than a game: The computer game as a fictional form. Manchester University Press.
Baudrillard, J. (1991). Simulacros e simulação. Relógio D'Água Editores.
Berens, K. & Howard, G. (2008). The rough guide to videogames. Rough Guides.
Bogost, I. (2007). Persuasive games – The expressive power of videogames. MIT Press.
Crossley, R. (2014). Mortal kombat: Violent game that changed video games industry. BBC News. https://www.bbc.com/news/technology-27620071.
Debord, G. (2003). A sociedade do espetáculo. Colectivo Periferia.
Evans, P. (2019). Rape Day game pulled by Steam platform after outcry. BBC News. https://www.bbc.com/news/blogs-trending-47484397.
Fassone, R. (2015). This is video game play: Video games, authority and metacommunication. Comunicação e sociedade, 27, 37-52. https://doi.org/10.17231/comsoc.27(2015).2088.
Ferguson, C. J. (2008). The school shooting/violent video game link: causal relationship or moral panic? Journal of investigative psychology and offender profiling, 5(1-2), 25-37. https://doi.org/10.1002/jip.76.
Fullerton, T. (2008). Documentary games: Putting the player in the path of History. In Z. Walen & T. Laurie (Eds), Playing the past: Nostalgia in video games and electronic literature. Vanderbilt University Press.
Gee, J. P. (2004), What videogames have to teach us about learning and literacy. Palgrave Macmillan.
Guggisberg, M. (2019). 'Rape day' – A virtual reality video game causes outrage. Psychology and psychotherapy: Research study, 2(3). https://doi.org/doi.org/10.31031/PPRS.2019.02.000537.
Gutiérrez, E. J. D. (2014). Video games and gender-based violence. Procedia – social and behavioral sciences, 132, 58-64. https://doi.org/10.1016/j.sbspro.2014.04.278.
Harviainen, J. T., Brown, A. M. L. & Suominen, J. (2018). Three waves of awkwardness: A meta-analysis of sex in game studies. Games and culture, 13(6), 605-623. https://doi.org/10.1177/1555412016636219.
Hartmann, T. (2017). The "moral disengagement in violent videogames" model. The international journal of computer game research, 17(2). http://gamestudies.org/1702/articles/hartmann.
Hennessy, J. (2022). The story behind JFK Reloaded, one of gaming's weirdest controversies. Vice. https://www.vice.com/en/article/3ab4jw/how-jfk-reloaded-became-the-most-controversial-video-game-of-2004.
Hernandez, P. (2019). Steam game about raping women will test Valve's hand-off approach. Polygon. https://www.polygon.com/2019/3/4/18249916/rape-day-steam-valve.
Heussner, K. (2009). 9 video games that went too far. ABC News. https://abcnews.go.com/Technology/GameOn/story?id=7750809.
Horton, A. (2018). The Active Shooter video game horrified Parkland parents. It was pulled before release. The Washington Post. https://www.washingtonpost.com/news/education/wp/2018/05/29/what-parkland-parents-think-of-a-new-video-game-that-lets-people-shoot-up-a-school.
Jangir, N. K. (2017). Voyeurism in media: Objectification of women as the image of pleasure. Galaxy international multidisciplinary research journal, 6, 17-23.
Jørgensen, K. & Mortensen, T. E. (2022). Whose expression is it anyway? Videogames and the freedom of expression. Games and culture. https://doi.org/10.1177/15554120221074423.
Juul, J. (2005). Half-real: Video games between real rules and fictional worlds. The MIT Press.
Maier-Zucchino, E. J. (2022). Developing meaning: Critical violence and eudaimonic entertainment in the seventh console generation. Games and culture. https://doi.org/10.1177/15554120221100817.
McCarthy D., Curran S. & Byron, S. (2005). The complete guide to game development, art & design. The Ilex Press.
Kain, E. (2014). Controversial video game Hatred pulled from Steam Greenlight. Forbes. https://www.forbes.com/sites/erikkain/2014/12/15/controversial-video-game-hatred-pulled-from-steam-greenlight/.
Kent, S. L. (2001). The ultimate history of video games: From Pong to Pokémon and beyond – The story behind the craze that touched our lives and changed the world. Three Rivers Press.
Kohler, C. (2007). How protests against games cause them to sell more copies. Wired. https://www.wired.com/2007/10/how-protests-ag.
Kohler, C. (2009). July 29, 1994: Videogame makers propose ratings board to Congress. Wired. https://www.wired.com/2009/07/dayintech-0729/.
Lucero II, L. (2018). Steam, after pulling school shooter game, says it will sell nearly everything. The New York Times. https://www.nytimes.com/2018/06/08/technology/steam-games-active-shooter.html.
PC Gamer. (2002, May 16). PC Gamer Magazine. The Magazine Group.
Plunkett, L. (2012). Death race, the world's first scandalous video game. Kotaku. https://kotaku.com/death-race-the-worlds-first-scandalous-video-game-5889166.
Poulton, E. (2007). "Fantasy football hooliganism" in popular media. Media, culture & society, 29(1), 151-164. https://doi.org/10.1177/0163443706072003.
Poulton, E. (2008). Toward a cultural sociology of the consumption of "fantasy football hooliganism". Sociology of sport journal, 25(3), 331-349. https://doi.org/10.1123/ssj.25.3.331.
Ramonet, I. (1999). A tirania da comunicação. Campo das Letras.
Riha, D. (2011). "The ethical experience in controversial videogames". The projected and prophetic: Humanity in cyberculture, cyberspace, and science fiction (pp. 28-40). Brill. https://doi.org/10.1163/9781848880870_005.
Saed, S. (2014). Gabe Newell apologies for pulling Hatred from Steam Greenlight. VG247. https://www.vg247.com/gabe-newell-apologises-for-pulling-hatred-from-steam-greenlight.
Sicart, M. (2009). The ethics of computer games. MIT Press.
Stanton, R. (2015). A brief history of video games – The evolution of a global industry. Running Press Book Publishers.
Stuart, K. (2015). Hatred: gaming's most contrived controversy. The Guardian. https://www.theguardian.com/technology/2015/may/29/hatred-gaming-controversy.
Willaert, K. (2021). Porno hustlers of the Atari age – The newly unearthed history behind one of the most offensive video games ever made. Kotaku. https://kotaku.com/porno-hustlers-of-the-atari-age-1847622176.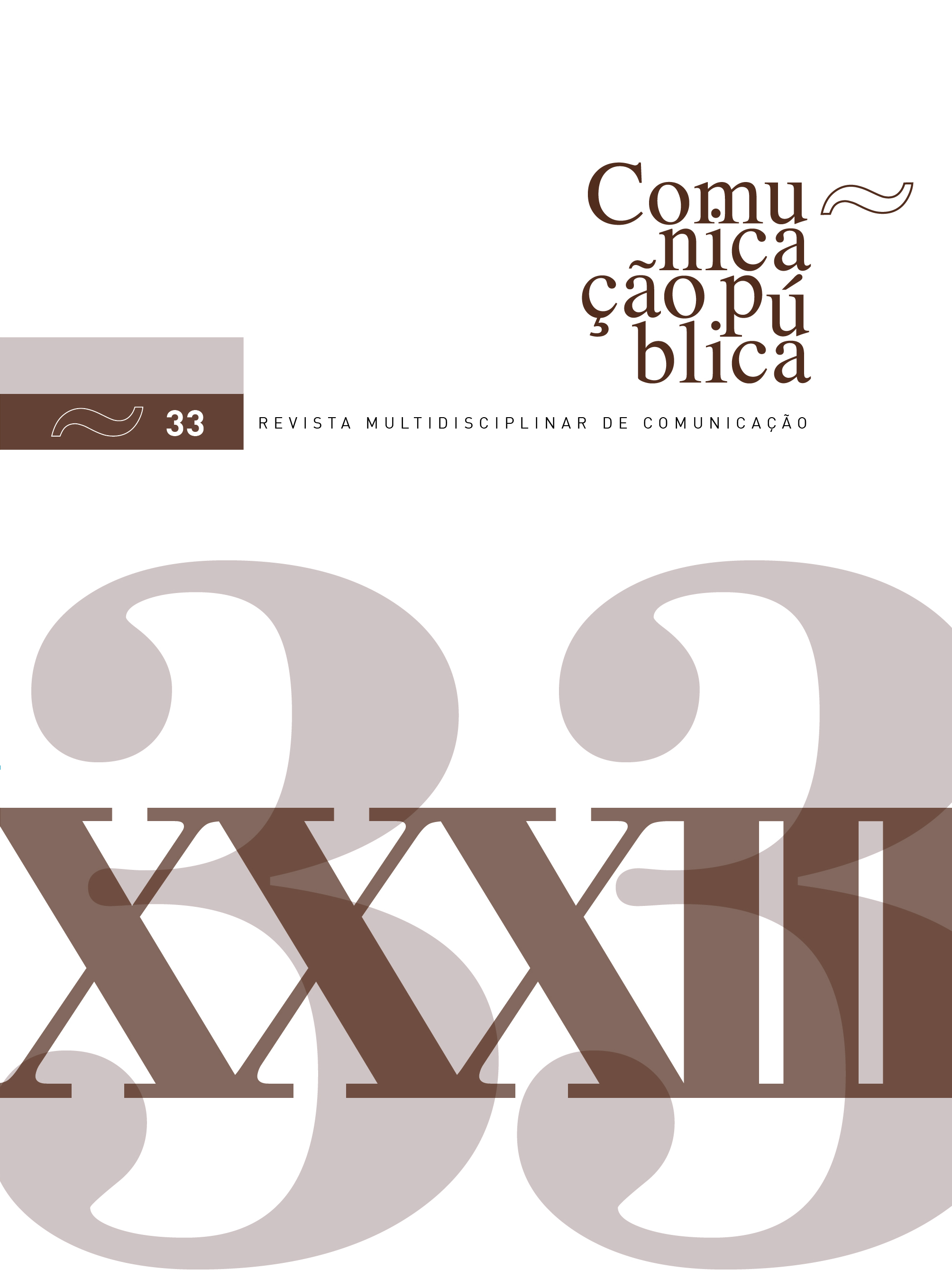 Downloads
Secção
DOSSIÊ TEMÁTICO: Literacia Mediática: estratégias para fortalecer a cidadania e a democracia
Licença
Direitos de Autor (c) 2022 Comunicação Pública
Este trabalho encontra-se publicado com a Licença Internacional Creative Commons Atribuição-NãoComercial 4.0.
Os conteudos da Comunicação Publica estão licenciados com uma licença Creative Commons - Atribuição-NãoComercial 4.0 Internacional.