Looking for social class and civil society in political discourse in Portuguese democracy (1976-2006)
content analysis approach
Palavras-chave:
política, classe social, discurso político
Resumo
O discurso político dá uma pista importante acerca da importância de conceitos-chave com relevância política ideológica, no sistema político. Este é o caso da classe social, da religião e dos partidos políticos, considerando o seu papel em termos políticos e eleitorais. O conceito de classe social tem sido longa e amplamente debatido na sociologia política. A sua importância na linguagem e no discurso políticos constitui o objeto desta investigação. O foco deste estudo é a importância da classe social, considerando a segmentação dos diferentes grupos da sociedade civil citados no discurso político. O objetivo é analisar os discursos políticos do ator político mais importante do país, o Presidente da República. O enfoque da análise centra-se no período a partir das primeiras fases na democracia Português após a Revolução de Abril, de 1974, e estende-se até 2006. A técnica de análise de conteúdo será a utilizada para esta concretização. Os resultados esperados apontam para a perda de importância da classe social, como conceito-chave tradicional, o qual evoluiu de modo bastante extensivo, na sua aplicação a mensagens políticas contemporâneas. Este estudo tende a convergir com a literatura dominante que elaborou sobre a perda estrutural e permanente da importância do conceito de classe social na política, incluindo em termos eleitorais.
Downloads
Não há dados estatísticos.
Referências
Babbie, E. R. (2008) The Basics of Social Research. USA: Thomson Higher Education.
Bardin, L. (2001 [1977]) L´Analyse de Contenu, Paris: PUF. DOI : 10.3917/puf.bard.2013.01
Bellucci, P., Maraffi, M. & Segatti, P. (2007) Intermediation Through Secondary Associations: The Organizational Context of Electoral Behaviour. In Gunther, R., Montero, J. R. and Puhle H.-J. ed Democracy, Intermediation, and Voting on Four Continent, Oxford: Oxford University Press: 135-182.
Bourdieu, P. (1989) O Poder Simbólico. Lisbon: Difel.
Bryman, A., Hardy, M. A. (2009) Handbook of Data Analysis. India: Sage Publications.
Capdevielle, J., Dupoirier, E. (ed.) (1981) France Gauche vote à Droite. Paris: PFNSP.
Dalton, R. J. (1996a) Comparative Politics: Micro-Behavioral Perspectives. In Klingemann, H.-D., Goodin, R. eds. A New Handbook of Political Science. Oxford: Oxford University Press, 2000: 336-352.
Dalton, R. J., (1996b) Political Cleavages, Issues and Electoral Change. In LeDuc, L., R. Niemi, Norris, P. eds Comparing Democracies: Elections and Voting in Global Perspective. USA: Thousand Oaks, Sage: 319-342
Dalton, R. J., S. C. Flanagan, P. A. Beck eds (1984) Electoral Change in Advanced Industrial Democracies: Realignment or Dealignment? Princeton: Princeton University Press. DOI : 10.2307/j.ctt1m323nh
Delue, S. M. (1997) Political Thinking, Political Theory and Civil Society. Boston: Ally and Bacon. DOI : 10.4324/9781315663241
Eshbaugh-Soha, M. (2006) The President's Speeches – Beyong 'Going Public' USA: Lynne Rienner Publishers.
Espírito Santo, P. (2007) Comunicação e política nos discursos presidenciais de tomada de posse: 1976-2006. In Martins, M. M. (coord.). Comunicação e Marketing Político. Lisbon: ISCSP: 63-93.
Espírito Santo, P. (2006) Sociologia Política Eleitoral – Modelos e Explicações de Voto. Lisbon: ISCSP.
Hoggart, R. (1957) The Uses of Literacy. Aspects of Working-Class Life with Special Reference to Publications and Entertainments. London: Peguin Books.
Inglehart, R., (1977) The Silent Revolution. Princeton University Press.
Inglehart, R. (1990) Culture Shift in Advanced Industrial Society. Princeton University Press. DOI : 10.2307/j.ctv346rbz
Inglehart, R., P. R. Abramson (1995) Value Change in Global Perspective. USA: The University of Michigan Press.
Kernell, S. (1997) Going Public: New Strategies of Presidential Leadership. Washington: CQ Press.
Kotzian, P. and Steffer, J. (2013) Do Members Make a Difference? A Study of Transnational Civil Society Organizations. European Political Science Review, 5(1): 55-81. DOI : 10.1017/S175577391200001X
Krippendorf, K. (1980) Content Analysis: An Introduction to its Methodology. Beverly Hills, CA: Sage.
Laver, M., Benoit, K. and Garry, J. (2003) Extracting Policy Positions from Political Texts Using Words as Data. The American Political Science Review, vol. 97(2) (May 2003): 311-331. DOI : 10.1017/S0003055403000698
Lipset, S. M. (1981 [1959]) Political Man – The Social Bases of Politics Baltimore: The Johns Hopkins University Press.
Lipset, S. M. & Rokkan, S. S. (eds) (1967) Party Systems and Voter Alignments. New York: Free Press.
Nieuwbeerta, P. & Graff, N. D. de (1999) Traditional Class Voting in Twenty Post war Societies. In Evans, G. eds The End of Class Politics? – Class Voting in Comparative Context. Oxford: Oxford University Press: 23-56.
Norris, P. (1997) Electoral Change since 1945. USA: Blackwell Publishers.
Oakeshott, M. (1991 [1962]) Rationalism in Politics and Other Essays. London: Methuen (Expanded edition - 1991, by Liberty Fund).
Ortega y Gasset, J. (1989[1930]) A Rebelião das Massas. Lisbon: Relógio d'Água Editores.
Scarbrough, E. & O. Knutsen (1995) Cleavage Politics. In van Deth, J. W., Scarbrough, E. eds. The Impact of Values. Oxford: Oxford University Press: 492-523.
Singly, F., C. Thelot, (1988) Gens du Public, Gens du Privé. La Grande Différence. Paris: Dunod.
Toffler, A. (1980) The Third Wave. Oxford: Pan Books.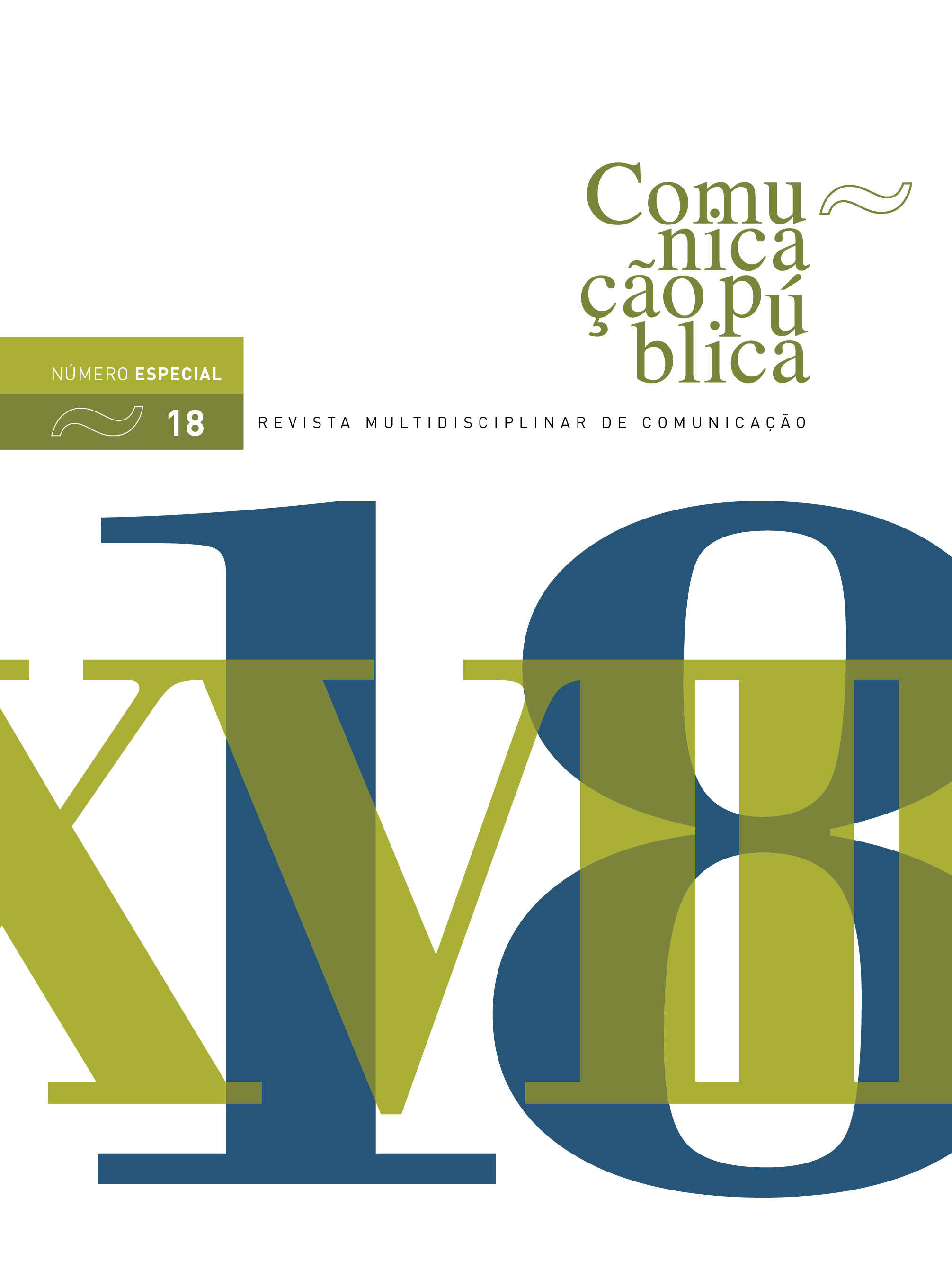 Downloads
Como Citar
Espírito Santo, P. (2021). Looking for social class and civil society in political discourse in Portuguese democracy (1976-2006): content analysis approach. Comunicação Pública, 10(18). https://doi.org/10.4000/cp.1005
Licença
Este trabalho encontra-se publicado com a Creative Commons Atribuição-NãoComercial 4.0.
Os conteudos da Comunicação Publica estão licenciados com uma licença Creative Commons - Atribuição-NãoComercial 4.0 Internacional.