Professional perspectives
an international studyof public relations students
Palavras-chave:
professionalism, ethics, public relations, international
Resumo
The impact future practitioners are likely to have on their chosen career field will undoubtedly depend on a variety of dynamic forces, beginning with the professional perspectives and values they bring with them in launching their careers as well as their ongoing professional socialization and experiences on the job. This online study of students worldwide sought to determine their attitudes and beliefs on critical issues, including ethics, professionalism, and social value. The responses from 122 public relations students represent universities in Germany, India, Italy, North Cypress, Portugal, South Africa, Spain, Turkey, United Arab Emirates, United Kingdom, and United States.
Downloads
Não há dados estatísticos.
Referências
Austin, E.W. & Pinkleton, B.E. (2006). Strategic public relations management (2nd ed.). Mahwah, NJ: Erlbaum.
Bowen, S. (2007). Ethics and public relations. Institute for Public Relations. Retrieved November 29, 2007, from http://www.instituteforpr.org.
Burson, H. (2006). The cobbler's children. Speech delivered at the International Communications Consultancy Organization Global Summit, New Delhi, India.
Cutlip, S.M., Center, A.H., & Broom, G.M. (2000). Effective public relations (8th ed.). Upper Saddle River, NJ: Prentice Hall.
Hendrix, J.A. & Hayes, D.C. (2007). Public relations cases (7th ed.). Belmont, CA: Thomson Wadsworth.
IPRA membership directory and service guide. (2007). International Public Relations Association. Surrey, United Kingdom.
Moore, H.F. & Kalupa, F.B. (1985). Public relations principles, cases, and problems (9th ed.). Homewoood, IL: Irwin.
Seitel, F. (2004). The practice of public relations (9th ed.). Upper Saddle River, NJ: Pearson Prentice Hall.
Smith, R.D. (2005). Strategic planning for public relations (2nd ed.). Mahwah, N.J.: Erlbaum.
VanSlyke Turk, J. (Ed.). (2006). Public relations education for the 21st century: The professional bond. Commission on Public Relations Education. Retrieved August 10, 2007, from www.commpred.org.
Wilcox, D.L. (2005). Public relations writing and media techniques (5th ed.). Boston: Pearson.
Wright, D.K, Hinson, M., Flaherty, R. & Ford, P. (2007, August). Assessing the value of the public relations curriculum: A survey of opinions of educators and practitioners. Paper presented at the meeting of the Pubic Relations Division, Association for Education in Journalism and Mass Communication, Washington, DC.
Wright, D.K. (2007, September). Thoughts on ethics, education and friendship. Speech delivered at Arthur W. Page Society annual conference, Laguna Niguel, CA.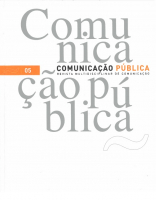 Downloads
Como Citar
B. Kalupa, F. (2007). Professional perspectives: an international studyof public relations students. Comunicação Pública, 3(5), 185–199. https://doi.org/10.4000/cp.8283
Secção
Actas de Congresso
Licença
Este trabalho encontra-se publicado com a Creative Commons Atribuição-NãoComercial 4.0.
Os conteudos da Comunicação Publica estão licenciados com uma licença Creative Commons - Atribuição-NãoComercial 4.0 Internacional.