The challenges of public diplomacy for the global citizen and corporation
Resumo
I am very pleased to be in Lisbon which has a special relationship with my home country – the United States – and to be a guest of Professor Joao Duarte of the Escola Superior De Comunicação Social. I know that all of us have benefited by his generosity and dedication in making this conference possible. He has continued the warm European tradition of hospitality that Enrique and Iris have contributed at the stimulating and most enjoyable conferences in Barcelona, Italy and Mallorca. Kudos to Joao for his leadership in organizing this wonderful forum and for living in such a vibrant city as Lisbon!
Downloads
Não há dados estatísticos.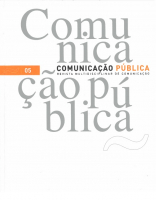 Downloads
Como Citar
Payne, G. (2007). The challenges of public diplomacy for the global citizen and corporation. Comunicação Pública, 3(5), 123–133. https://doi.org/10.4000/cp.8133
Secção
Actas de Congresso
Licença
Este trabalho encontra-se publicado com a Creative Commons Atribuição-NãoComercial 4.0.
Os conteudos da Comunicação Publica estão licenciados com uma licença Creative Commons - Atribuição-NãoComercial 4.0 Internacional.