Web 2.0 and deliberation. The ongoing practice of political debate in weblogs
Palavras-chave:
democracia, deliberação, esfera pública, on-line, blogosfera, participação política
Resumo
O presente artigo centra-se numa análise crítica da blogosfera, com o objetivo de questionar os seus potenciais usos tecnológicos e políticos. Como ponto de partida, seguimos a hipótese de a blogosfera constituir uma forma particular de esfera pública situada num espaço discursivo, com densidade política, onde podem ocorrer práticas de deliberação. Para sustentar este argumento, fazemos uma avaliação do debate que identifica a blogosfera com o conceito de esfera pública. Para esse fim, tomamos como referência os elementos normativos do modelo deliberativo e os padrões de interação entre autores e leitores de blogues. Desenvolvida esta abordagem será possível 1) confrontar as condições de existência de deliberação com os aspectos críticos do uso comum da blogosfera; 2) identificar elementos básicos de um quadro analítico para avaliar a existência de práticas deliberativas na blogosfera; e 3) sumarizar resultados empíricos obtidos sobre esta matéria.
Tomando em conta estes elementos, será analisada a qualidade do debate sobre o conceito de "austeridade" levado a cabo em dois blogues, conotados politica e partidariamente. Desta análise, os dados sugerem a prevalência de homofilia enquanto parte de fenómenos de ciberbalcanização. Além disso, verificamos que todos os processos discursivos se caraterizam por padrões bem definidos de polarização, sustentados em perspetivas extremadas. Concluímos que o conceito de deliberação não é identificável nas formas mais comuns de comunicação existentes nos dois blogues estudados. Pode neles ser identificado o conceito de participação; contudo, e a partir da perspetiva deliberativa, este conceito apenas pode ser entendido enquanto forma ligeira de interação social, de reduzida densidade num plano político.
Downloads
Não há dados estatísticos.
Referências
Barlow, A. (2008) Blogging America. Westport: Praeger Publishers.
Barlow, A. (2007) Rise of the Blogosphere. Westport: Praeger Publishers.
Benkler, Y. & Aaron, S. (2010) A tale of two blogospheres: Discursive practices on the left and right. Available at:http://cyber.law.harvard.edu/sites/cyber.law.harvard.edu/files/Benkler_Shaw_Tale_of_Two_Blogospheres_Mar2010.pdf Accessed June 29, 2011.
Bohman, J. (2004) Expanding dialogue: The internet, the public sphere and the prospects for transnational democracy. Sociological Review, vol. 52(2): 131-55.
Bohman, J. (1996) Public Deliberation: Pluralism, Complexity, and Democracy. Cambridge: MIT Press.
Castells, M. (2008) The New Public Sphere: Global Civil Society, Communication Networks, and Global Governance. The Annals of the American Academy of Political and Social Science, vol. 616, March: 78-93.
Chambers, S. (1995) Discourse and Democratic Practices. In White, S. K. ed. The Cambridge Companion to Habermas. Cambridge: Cambridge University Press: 233-254
Cohen, J. (1997) Deliberation and Democratic Legitimacy. In Bohman, J., Rehg, W. eds. Deliberative Democracy: Essays on Reason and Politics. Cambridge: MIT Press: 67-91.
Dahlberg, L. (2001) Democracy via Cyberspace. New Media Society, 3(2): 157-177.
Elster, J. (1997) The Market and the Forum: Three Varieties of Political Theory. In Bohman, J. & Rehg, W. eds. Deliberative Democracy. Essays on Reason and Politics. Cambridge. MA: MIT Press: 3-34.
Ferreira, G. B. (2011) Democracia digital e participação política: o acesso e a igualdade na deliberação online. Media & Jornalismo, 18(10) : 46-61.
Freese, J. (2009) Blogs and the Attention Market for Public Intellectuals Society, Vol. 46: 45-48.
Grossman, L. (2006) Person of the Year: You". Time. December.
Habermas, J. (1991) The Structural Transformation of the Public Sphere: an Inquiry into a Category of Bourgeois Society. Cambridge: MIT Press
Habermas, J. (1984) The Theory of Communicative Action. Boston: Beacon.
Habermas, J. (2006) Political Communication in Media Society: Does Democracy Still Enjoy an Epistemic Dimension? The Impact of Normative Theory on Empirical Research. Communication Theory, 16(4): 411–26.
Lawrence, E., Sides, J., & Farrell, H. (2010) Self-segregation or deliberation? Blog readership, participation, and polarization in American politics. Perspectives on Politics, Vol. 8(1): 141–157.
Macedo, S. (1999) Introduction. In Macedo, S. ed. Deliberative Politics. Essays on 'Democracy and Disagreement'. New York, Oxford: Oxford University Press.
Maynor, J. W. (2007) Blogging for Democracy: Autonomy and Reasonableness in the Blogosphere. Paper presented at the Midwest Political Science Association. Available at: http://www.internetadvocacycenter.com/thinktank/topics/articles/Maynor.pdf. Accessed June 29, 2011.
Rheingold, H. (1995) Virtual Community: Finding Connection in a Computerized World. Cambridge, London: Secker & Warburg.
Schudson, M. (1997) Why conversation is not the soul of democracy. Critical Studies in Mass Communication, 14(4): 297-309.
Sunstein, C. (2009) Republic.com 2.0, Princeton. NJ: Princeton University Press.
Sunstein, C. (1993) Democracy and the Problem of Free Speech. New York: The Free Press.
Techonorati (2009) Blogging's Global Impact and the Future of Blogging. Available at: http://technorati.com/blogging/article/day-5-twitter-global-impact-and/page-2/#ixzz1Qf64Og3C. Accessed June 29, 2011.
Witschge, T. (2004) Online deliberation: Possibilities of the Internet for deliberative democracy. In Shane, P. (ed.), Democracy online: The prospects for political renewal through the Internet, New York, NY: Routledge: 109-122.
Young, I. M. (2001) Activist Challenges to Deliberative Democracy. Political Theory, 29(5): 670-690.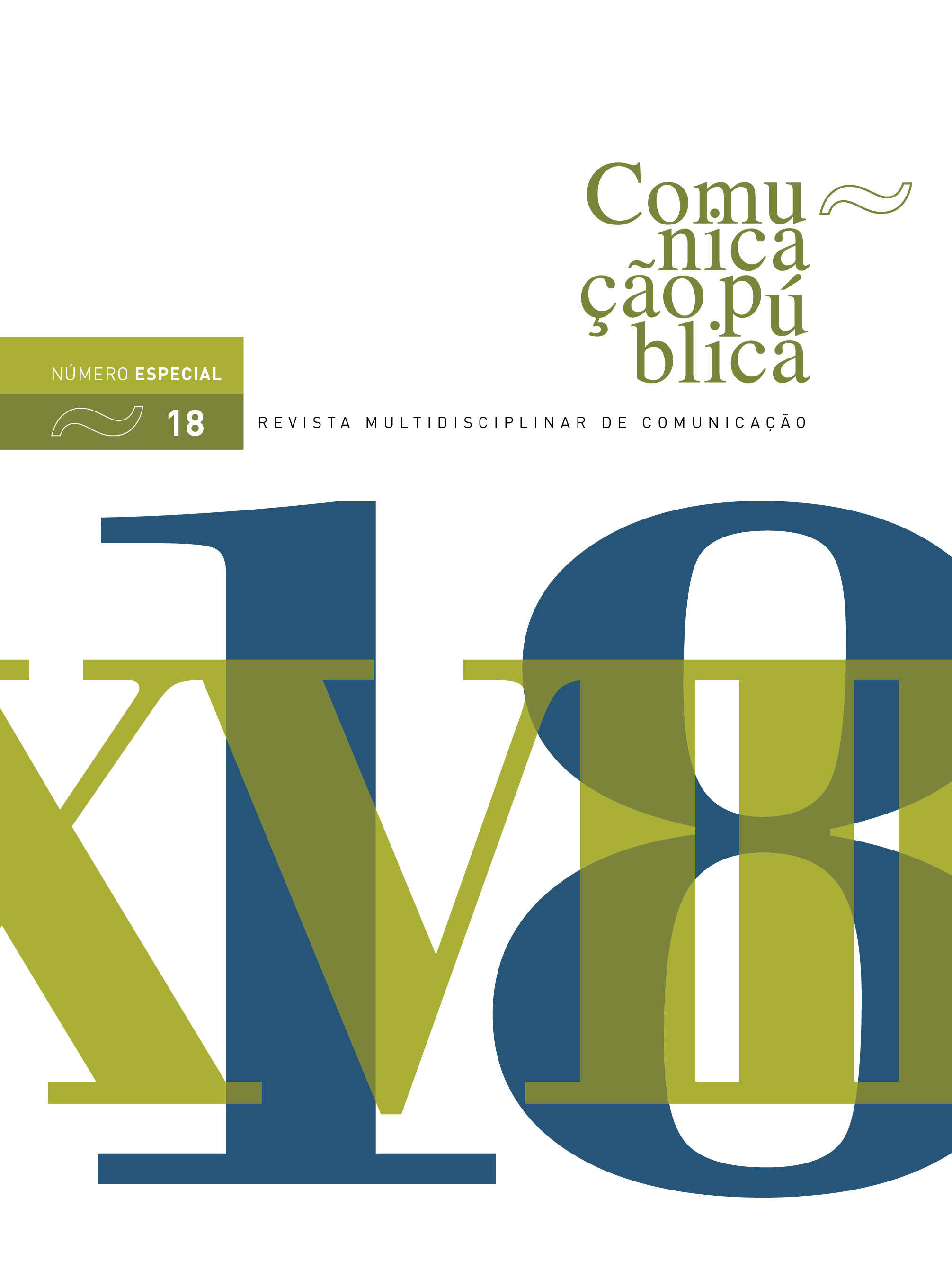 Downloads
Como Citar
Baptista Ferreira, G. (2021). Web 2.0 and deliberation. The ongoing practice of political debate in weblogs. Comunicação Pública, 10(18). https://doi.org/10.4000/cp.997
Licença
Este trabalho encontra-se publicado com a Creative Commons Atribuição-NãoComercial 4.0.
Os conteudos da Comunicação Publica estão licenciados com uma licença Creative Commons - Atribuição-NãoComercial 4.0 Internacional.