Capacidade respiratória e funcional em idosos após COVID-19: um estudo transversal
Palavras-chave:
COVID-19, Idosos, Capacidade respiratória funcional, Pressões respiratórias, Força de preensão
Resumo
Introdução – A disseminação pandémica do SARS-CoV-2 levou a um surto de pneumonia viral sem precedentes. Apesar de a caracterização de sequelas pós-COVID-19 constituir o interesse atual da investigação mundial, um elevado grau de desconhecimento regista-se ao nível do impacto funcional que esta doença causa nos idosos que tenham apresentado manifestações moderadas, graves ou críticas. Objetivo – Identificar as principais sequelas na capacidade funcional e respiratória em idosos após o COVID-19. Método – Estudo transversal realizado na comunidade. Avaliou-se a capacidade aeróbia funcional (teste de step de 2 min), perceção da dispneia (modified Medical Research Council), força muscular respiratória e periférica (pressão inspiratória e expiratória máximas, força de preensão manual) e o Índice de Fragilidade (Escala de Fragilidade Clínica) em 25 indivíduos com idade ≥65 anos, residentes na comunidade, com diagnóstico de COVID-19 até seis meses, e em igual número de idosos com as mesmas características sem diagnóstico conhecido de COVID-19. Resultados – Os idosos com diagnóstico de COVID-19 até seis meses apresentaram uma diminuição nos valores de pressão inspiratória máxima (p<0,001), pressão expiratória máxima (p=0,015), na capacidade aeróbia (p<0,001), com presença significativa de dessaturação induzida pelo esforço (p<0,001), valores aumentados de perceção de dispneia (p<0,001) e níveis mais elevados de Índice de Fragilidade (p=0,026). Conclusão – Foram encontradas alterações significativas na capacidade respiratória e funcional em idosos com diagnóstico de COVID-19 até seis meses quando comparados com idosos com características idênticas sem diagnóstico prévio de COVID-19. Estes resultados podem ser um importante indicador na caracterização de sequelas após infeção pelo SARS-CoV-2.
Downloads
Não há dados estatísticos.
Referências
Coronaviridae Study Group of the International Committee on Taxonomy of Viruses. The species Severe acute respiratory syndrome-related coronavirus: classifying 2019-nCoV and naming it SARS-CoV-2. Nat Microbiol. 2020;5(4):536-44.
Guan WJ, Ni ZY, Hu Y, Liang WH, Ou CQ, He JX, et al. Clinical characteristics of coronavirus disease 2019 in China. N Engl J Med. 2020;382(18):1708-20.
Direção-Geral da Saúde. COVID-19 Ponto atual de situação em Portugal e no mundo [homepage]. Lisboa: DGS; 2021 [cited 2021 Jun 21]. Available from: https://covid19.min-saude.pt/relatorio-de-situacao/
World Health Organization. Report of the WHO-China joint mission on coronavirus disease 2019 (COVID-19) [homepage]. Geneva: WHO; 2020 Feb 28 [cited 2021 Jun 21]. Available from: https://www.who.int/publications-detail/report-of-the-who-china-joint-mission-on-coronavirus-disease-2019-(COVID-19)
Wang L, He W, Yu X, Hu D, Bao M, Liu H, et al. Coronavirus disease 2019 in elderly patients: characteristics and prognostic factors based on 4-week follow-up. J Infect. 2020;80(6):639-45.
Froes M, Neves B, Martins B, Silva MJ. Comparison of multimorbidity in COVID-19 infected and general population in Portugal. MedRXiv [Internet]. 2020 Sep 8. Available from: https://www.medrxiv.org/content/10.1101/2020.07.02.20144378v4.full
Barker-Davies RM, O'Sullivan O, Senaratne KP, Baker P, Cranley M, Dharm-Datta S, et al. The Stanford Hall consensus statement for post-COVID-19 rehabilitation. Br J Sports Med. 2020;54(16):949-59.
Ye Q, Wang B, Mao J. The pathogenesis and treatment of the 'cytokine storm' in
COVID-19. J Infect. 2020;80(6):607-13.
Madjid M, Safavi-Naeini P, Solomon SD, Vardeny O. Potential effects of coronaviruses on the cardiovascular system: a review. JAMA Cardiol. 2020;5(7):831-40.
Baig AM. Updates on what ACS reported: emerging evidences of COVID-19 with nervous system involvement. ACS Chem Neurosci. 2020;11(9):1204-5.
Cipollaro L, Giordano L, Padulo J, Oliva F, Maffulli N. Musculoskeletal symptoms in SARS-CoV-2 (COVID-19) patients. J Orthop Surg Res. 2020;15(1):178.
Docherty AB, Harrison EM, Green CA, Hardwick HE, Pius R, Norman L, et al. Features of 20 133 UK patients in hospital with covid-19 using the ISARIC WHO Clinical Characterisation Protocol: prospective observational cohort study. BMJ. 2020;369:m1985.
Richardson S, Hirsch JS, Narasimhan M, Crawford JM, McGinn T, Davidson KW, et al. Presenting characteristics, comorbidities, and outcomes among 5700 patients hospitalized with COVID-19 in the New York City Area. JAMA. 2020;323(20):2052-9.
Lopez-Leon S, Wegman-Ostrosky T, Perelman C, Sepulveda R, Rebolledo PA, Cuapio A, et al. More than 50 long-term effects of COVID-19: a systematic review and meta-analysis. Sci Rep. 2021;11(1):16144.
Greenhalgh T, Knight M, A'Court C, Buxton M, Husain L. Management of post-acute covid-19 in primary care. BMJ. 2020;370:m3026.
Zheng Z, Peng F, Xu B, Zhao J, Liu H, Peng J, et al. Risk factors of critical & mortal COVID-19 cases: a systematic literature review and meta-analysis. J Infect. 2020;81(2):e16-e25.
Bencivenga L, Rengo G, Varricchi G. Elderly at time of COronaVIrus Disease 2019 (COVID-19): possible role of immunosenescence and malnutrition. Geroscience. 2020;42(4):1089-92.
Hanlon P, Nicholl BI, Jani BD, Lee D, McQueenie R, Mair FS. Frailty and pre-frailty in middle-aged and older adults and its association with multimorbidity and mortality: a prospective analysis of 493737 UK Biobank participants. Lancet Public Health. 2018;3(7):e323-32.
Hewitt J, Carter B, Vilches-Moraga A, Quinn TJ, Braude P, Verduri A, et al. The effect of frailty on survival in patients with COVID-19 (COPE): a multicentre, European, observational cohort study. Lancet Public Health. 2020;5(8):e444-e51.
Rikli RE, Jones CJ. Functional fitness normative scores for community-residing older adults, ages 60-94. J Aging Phys Act. 1999;7(2):162-81.
Bohannon RW, Crouch RH. Two-minute step test of exercise capacity: systematic review of procedures, performance, and clinimetric properties. J Geriatr Phys Ther. 2019;42(2):105-12.
American Physical Therapy Association. COVID-19 core outcome measures: APTA academies and sections consensus statement [homepage]. APTA; 2020. Available from: https://www.apta.org/your-practice/outcomes-measurement/covid-19-core-outcome-measures
Bai C, Chotirmall SH, Rello J, Alba GA, Ginns LC, Krishnan JA, et al. Updated guidance on the management of COVID-19: from an American Thoracic Society/European Respiratory Society coordinated International Task Force (29 July 2020). Eur Respir Rev. 2020;29(157):200287.
Núñez-Cortés R, Rivera-Lillo G, Arias-Campoverde M, Soto-García D, García-Palomera R, Torres-Castro R. Use of sit-to-stand test to assess the physical capacity and exertional desaturation in patients post COVID-19. Chron Respir Dis. 2021;18:1479973121999205.
Curci C, Pisano F, Bonacci E, Camozzi DM, Ceravolo C, Bergonzi R, et al. Early rehabilitation in post-acute COVID-19 patients: data from an Italian COVID-19 Rehabilitation Unit and proposal of a treatment protocol. Eur J Phys Rehabil Med. 2020;56(5):633-41.
Wu Q, Hou X, Li H, Guo J, Li Y, Yang F, et al. A follow-up study of respiratory and physical function after discharge in patients with redetectable positive SARS-CoV-2 nucleic acid results following recovery from COVID-19. Int J Infect Dis. 2021;107:5-11.
Dias JA, Ovando AC, Külkamp W, Borges Jr NG. Força de preensão palmar: métodos de avaliação e fatores que influenciam a medida [Hand grip strength: evaluation methods and factors influencing this measure]. Rev Bras Cineantropom Desempenho Hum. 2010;12(3):209-16. Portuguese
Tomás MT, Fernandes MB. Força de preensão – Análise de concordância entre dois dinamómetros: JAMAR vs E Link [Grip strength – Agreement analysis between two dynamometers: JAMAR vs E-Link]. Saúde & Tecnologia. 2012;(7):39-43. Portuguese
Laveneziana P, Albuquerque A, Aliverti A, Babb T, Barreiro E, Dres M, et al. ERS statement on respiratory muscle testing at rest and during exercise. Eur Respir J. 2019;53(6):1801214.
Pinto MP, Martins S, Mesquita E, Fernandes L. European Portuguese Version of the Clinical Frailty Scale: translation, cultural adaptation and validation study. Acta Med Port. 2021;34(11):749-60.
Cheval B, Sieber S, Maltagliati S, Millet GP, Formánek T, Chalabaev A, et al. Muscle strength is associated with COVID-19 hospitalization in adults 50 years of age and older. J Cachexia Sarcopenia Muscle. 2021;12(5):1136-43.
Augustin M, Schommers P, Stecher M, Dewald F, Gieselmann L, Gruell H, et al. Post-COVID syndrome in non-hospitalised patients with COVID-19: a longitudinal prospective cohort study. Lancet Reg Health Eur. 2021;6:100122.
Owen RK, Conroy SP, Taub N, Jones W, Bryden D, Pareek M, et al. Comparing associations between frailty and mortality in hospitalised older adults with or without COVID-19 infection: a retrospective observational study using electronic health records. Age Ageing. 2021;50(2):307-16.
Ekiz T, Kara M, Özçakar L. Measuring grip strength in COVID-19: a simple way to predict overall frailty/impairment. Heart Lung. 2020;49(6):853-4.
Severin R, Arena R, Lavie CJ, Bond S, Phillips SA. Respiratory muscle performance screening for infectious disease management following COVID-19: a highly pressurized situation. Am J Med. 2020;133(0):1025-32.
Mathiowetz V, Kashman N, Volland G, Weber K, Dowe M, Rogers S. Grip and pinch strength: normative data for adults. Arch Phys Med Rehabil. 1985;66(2):69-74.
Torres-Castro R, Vasconcello-Castillo L, Alsina-Restoy X, Solis-Navarro L, Burgos F, Puppo H, et al. Respiratory function in patients post-infection by COVID-19: a systematic review and meta-analysis. Pulmonology. 2021;27(4):328-37.
Gochicoa-Rangel L, Torre-Bouscoulet L, Salles Rojas A, Guzmán-Valderrábano C, Silva-Cerón M, Benítez-Pérez RE, et al. Functional respiratory evaluation in the COVID-19 era: the role of pulmonary function test laboratories. Rev Invest Clin. 2020;73(4).
Gerardo A, Almeida T, Maduro S, Carvalho M, Boléo-Tomé J, Liberato H. Pulmonary function, functional capacity and health status in a cohort of COVID-19 survivors at 3 and 6 months after hospital discharge. Rev Med Clin. 2021;5(2):e11052105023.
Huang Y, Tan C, Wu J, Chen M, Wang Z, Luo L, et al. Impact of coronavirus disease 2019 on pulmonary function in early convalescence phase. Respir Res. 2020;21(1):163.
Hameed F, Palatulan E, Jaywant A, Said R, Lau C, Sood V, et al. Outcomes of a COVID-19 recovery program for patients hospitalized with SARS-CoV-2 infection in New York City: a prospective cohort study. PM R. 2021;13(6):609-17.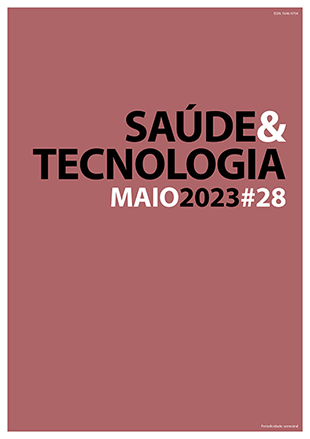 Downloads
Como Citar
Pereira, F. A., & Tomás, M. T. (2023). Capacidade respiratória e funcional em idosos após COVID-19: um estudo transversal. Saúde & Tecnologia, (28), 70–78. https://doi.org/10.25758/set.596
Licença
Direitos de Autor (c) 2023 Saúde & Tecnologia
Este trabalho encontra-se publicado com a Licença Internacional Creative Commons Atribuição-NãoComercial-SemDerivações 4.0.
A revista Saúde & Tecnologia oferece acesso livre imediato ao seu conteúdo, seguindo o princípio de que disponibilizar gratuitamente o conhecimento científico ao público proporciona maior democratização mundial do conhecimento.
A revista Saúde & Tecnologia não cobra, aos autores, taxas referentes à submissão nem ao processamento de artigos (APC).
A Saúde & Tecnologia transfere copyrights aos autores mas detém os direitos de publicação.
Todos os conteúdos estão licenciados de acordo com uma licença Creative Commons CC-BY-NC-ND. Os autores têm direito a: reproduzir o seu trabalho em suporte físico ou digital para uso pessoal, profissional ou para ensino, mas não para uso comercial (incluindo venda do direito a aceder ao artigo); depositar no seu sítio da internet, da sua instituição ou num repositório uma cópia exata em formato eletrónico do artigo publicado pela Saúde & Tecnologia, desde que seja feita referência à sua publicação na Saúde & Tecnologia e o seu conteúdo (incluindo símbolos que identifiquem a revista) não seja alterado; publicar em livro de que sejam autores ou editores o conteúdo total ou parcial do manuscrito, desde que seja feita referência à sua publicação na Saúde & Tecnologia